Sponsored by: Sequans

5G is set to superpower the IoT market through a host of new technologies and related software and services. But it will also change the competitive landscape, meaning IoT suppliers will now need to understand how to reorientate to not only capitalize on the opportunities, but also to respond to new threats facing their business models and product offerings.
This webinar provides an update on the 5G technology stack and what this means for new hardware, software, and services. This will be followed on an assessment of the opportunities and threats confronted by different supplier segments with initial recommendations on how to respond.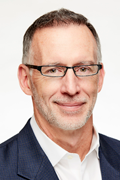 Dan Shey
Vice President, Enabling Platforms